School Infrastructure
INFORMATION
DETAILS
1.Total campus area of the school
16 Acres
2.No. and size of the class rooms (in SQ Mtrs)
Rooms-38
50 Square Mtrs each
3.No.and size of laboratories including computer labs and ATL
9 LABS,
Physics,Chemistry-63.24 SQ Mtrs each
Maths,Bio-37.82 SQ Mtrs
ATL Lab-2465.98 SQ Mtrs
Library-97.65 SQ Mtrs
Geography lab-33 SQ Mtrs
Computer Lab-45.05 SQ Mtrs
Home science lab-49.14 SQ Mtrs
4.Internet Facility(Y/N)
yes
5.No. of girls toilets
11
6.No. of boys toilets
16
Campus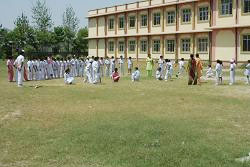 The school is located on the Pehowa road near Jyotisar on the bank of Saraswati river. The Campus of the school is over 30 acres of land. Campus is full of sprawling lawns and big play grounds and sufficient open space, creates a perfect environment for stimulating teaching and learning process. The double storied school building with well lit, airy and spacious class-room give a cheerful look with impressive architectural beauty. it is well equipped with sufficient aids and infrastructure for further expansion.

Staff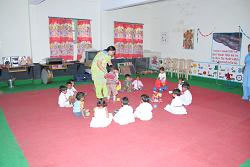 The qualified staff are chosen of their professional qualification and experience for their commitment to children's welfare, sympathetic understanding of their needs and a desire to serve the institution's interest.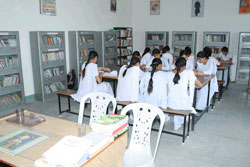 Library Facility
Our library subscribes for No. of Magazines, News papers, story books, commix etc. Students are allotted regular period to go to Library to develop the habit of general reading.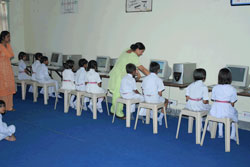 Computer Lab
In the modern day for technological development, exposure to computer has come to stay and is being provided to the student from class 1st onwards with theoretical knowledge followed by practical handling of the computer.
Multimedia Lab
For the development of essential skills among the students, we have well equipped Multimedia room. This room is provided with educational and recreational toys as well as audio visual Aids to make the learning process easy and effective. This room is used to show the educational films and C.D's based on syllabi and general information to the students time to time.
Playground
The school provides ample opportunities to the students to play cricket, Athletics, Badminton, Table Tennis, Volley Ball and Foot ball. There are spacious play ground, running track and provision for indoor games like chess, Ludo, Carrom etc. Every child must participate at least in one game.